UOWMKDU's First Commercialisation Deal Inked
---
This is the inspiring story of a student project that evolved into a business start-up, and made history as the first commercialisation project for UOWMKDU. The journey began when 6 students from the UOWMKDU Glenmarie UC Bachelor of Game Development (Hons) program of the School of Communication and Creative Media (SCCM), created a video game with Chonky, an adventurous cat, for their second-year student game project. The submission was for the Sintok International Games & Gamification Challenge competition in 2020 and won the Silver Award.
That award-winning cat game has now morphed into 'Ameowzing' Tales – a new 3D immersive adventure game in which players take on the role of the magical cat who ventures out to different realms with his dearest companion, Rune Knight. The game is set in a fantasy realm with unique settings and biomes ranging from a medieval civilization, mountainous regions high above clouds, lush forests, deserts, and icy tundra.
Fast forward to 2022, the 6 students (now alumni of SCCM) incorporated a company, Reclaim Studios. On 10 January 2022, Reclaim Studios signed an Intellectual Property Rights Agreement with UOWMKDU to develop and commercialise the video game.
The 6 creators of 'Ameowzing' Tales from the graduating class of 2021 are: Yasmin Izzati binti Azmir (Head of Studio), Muhammad Syafiq bin Shahrin (Lead Programmers), Mikail Shafiq bin Muhammad Sakin Sim, Linus Goh Yue Shen (Lead Artists), Lee Jun Kai, and Carin Yap Xin Yi.
Reclaim Studios is being developed in a special facility at the UOWMKDU Glenmarie campus. They are being mentored and supervised by the SCCM Head of School Dr. Ts Tan Chin Ike and their lecturers – Yap Chun Fei, Michael Ooi Su Guan, Chong Wei Shern, Ng Yiing Y'ng and Lai Ze Ren. The Faculty takes pride in nurturing their students to become top notch game developers and entrepreneurs.
The move to incorporate Reclaim Studios was strategic. This will enable them to apply for government grants and other game related industry grants. Reclaim Studios successfully secured a RM50,000 grant early this year from the Malaysia Digital Economy Corporation (MDEC) Digital Content Grant, PRISMA (Malaysian Creative Industry Stimulus Package). PRISMA is one of Malaysia's Ministry of Communications & Multimedia's key initiative to support and encourage sustainability of Malaysia's creative industry.
This collaborative project is intended to be SCCM's first commercially published digital game in-line with UOWMKDU's Commercialization initiative. According to Associate Professor Dr. Ts Tan Chin Ike, "This is just the beginning of many more commercialization ideas. We are already working on a second game with another group of students."
'Ameowzing' Tales is expected to be completed by the end of 2022 and will be published in online digital platforms such as Epic Store, Steam and GOG for feedback and fine-tuning. The targeted public release date is May 2023, and it is expected to retail at USD14.99.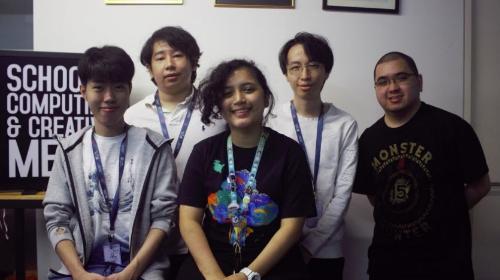 From left: From Reclaim Studios - Linus Goh Yue Shen (Lead Artist), Muhammad Syafiq bin Shahrin (Lead Programmer), Yasmin Izzati binti Azmir (Head of Studio), Lee Jun Kai and Mikail Shafiq bin Muhammad Sakin Sim.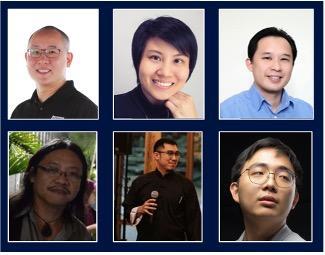 Clockwise from top left: SCCM Faculty - Assoc Prof Dr. Ts. (Head of School), Ng Yiing Y'ng, Yap Chun Fei, Lai Ze Ren, Shern Chong and Michael Ooi.