Two teams of students from UOW Malaysia KDU Penang University College emerged as Champion and First Runner Up in the Youth Entrepreneurship Challenge competition, held in Penang towards the end of 2021. The competition was organized by the Penang State Government, Penang Youth Development Corporation (PYDC) and Penang Chinese Chamber of Commerce Young Entrepreneur Session under the initiative of "Youth for Future", to cultivate the interest of youth in entrepreneurship.
---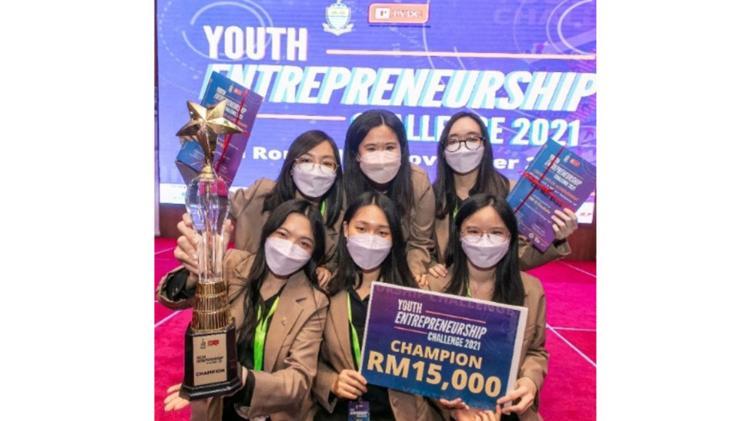 Winning team with supervisor Dr. Lim Chia Yean
Students were required to write a business plan for a new start-up business. The team that emerged as Champion comprised five Bachelor of Computer Science (Hons) students, supervised by Dr. Lim Chia Yean, the Head of Department of Computing at the UOWMKDU Penang University College. The students are Kok Yu Xuan, Wan Xiao Yu, Lim Wei Shan, Bethanie Ooi Xinyi and Aisha Peng. They walked away with a trophy and RM15,000 cash prize which will be used as start-up fund for the business. The students proposed a business idea called Tokkong Home Service. The Tokkong Solution company aspires to offer professional home services in Penang via a mobile application named Tokkong Home Service. The mission is to provide "Service anytime, anywhere." Not only can local service professionals widen their opportunities to sell their services, but every home can also use the app to access professional services anywhere, anytime!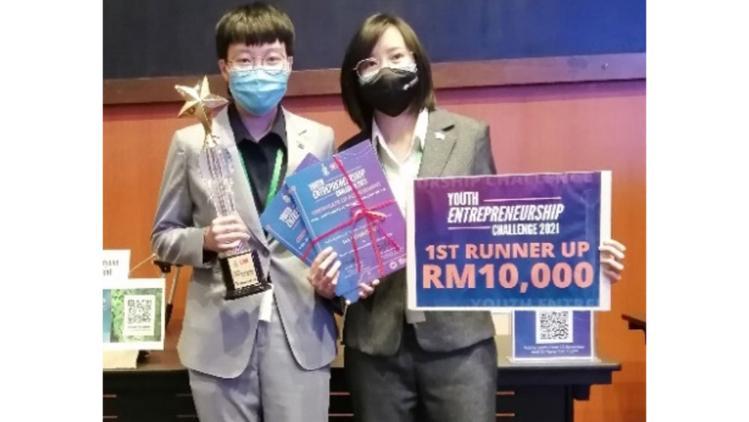 First Runner Up Team – Tay Wan Nee and Ooi Sin Ee
The first runner up team was a multi-disciplinary collaboration between Tay Wan Nee, a Business student and Ooi Sin En, an alumnus from the Department of Computing. They proposed a business idea, Planèt, which offers an alternative to traditional soil cultivation by producing vegetables through a combination of Hydroponics with Internet of Things technology. The team was supervised by Dr. Andrew Chiang, the Senior Lecturer from the School of Business at UOWMKDU Penang University College. The team walked away with a RM10,000 cash prize and are already receiving offers from interested investors to turn the business plan into reality.
According to Dr. Lim Chia Yen, her students are exposed to entrepreneurship skills as early as Diploma level, through practical courses such as Entrepreneurship and Innovation, Contemporary Entrepreneurship, Digital Business and E-Commerce, and Sociology of Innovation. UOW Malaysia KDU Penang lecturers encouraged their students to apply the knowledge and skills from the courses in order to propose a solid business plan for the competition. The teams did some groundwork such as approaching vendors for a preliminary business survey, conducting market survey and finance planning. They have also learnt various business start-up skills by attending various entrepreneurship guest lectures organized by the Career Placement Center at the campus. The students also had the benefit of attending PYDC's preparatory workshops and mentor coaching sessions for the top 12 finalists. PYDC plans to provide incubator and accelerator programs for the winning teams to start-up their business.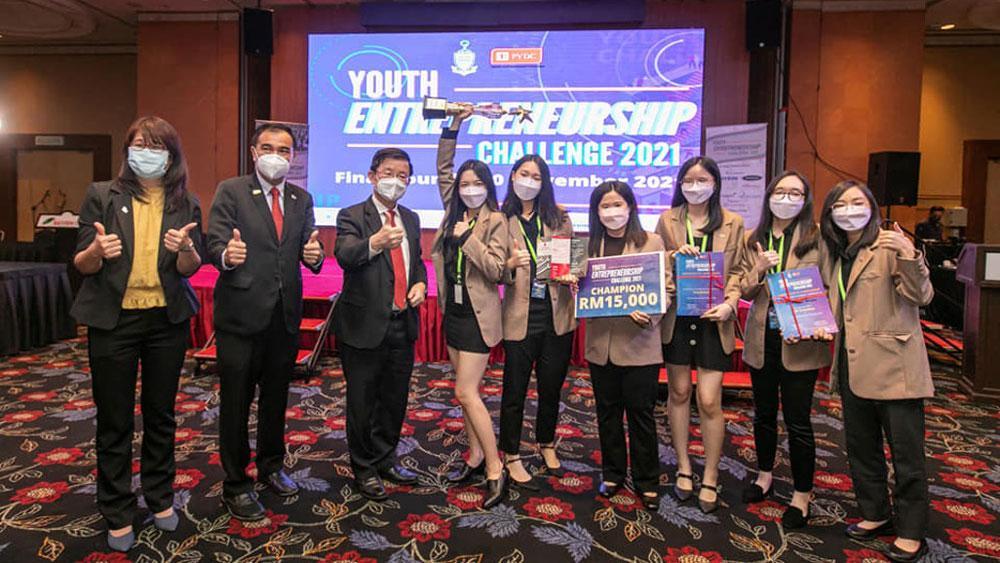 Champion winning team and Dr. Lim Chia Yen celebrate with the Penang Chief Minister (third from left).